I Wayan Juniarta (Jakarta Post)
Denpasar ●
Thu, February 1, 2018

2018-02-01
09:29
1450
2c798a31c212039f000dc5df9c372f6f
4
Art & Culture
bilateral-relations, cultural, diplomacy, Indonesia-Japan-relations, bali, Bentara-Budaya-Bali
To free

In the hands of Kiju Kitamura, the shamisen, a traditional three-stringed instrument created in Japan in the 16th century, is transformed into a kind of modern electric guitar.
Kiju Kitamura possesses the magnetic aura of a rock star who immediately caught the attention of the public, which is mostly made up of students and young people from Denpasar.
Her face is delicately beautiful with hair painted blond. His smile is contagious. Yet it was the way he played the shamisen – a traditional three-stringed instrument originated in 16th-century Japan – that really got the crowd intoxicated.
His dynamic stage style, fast melodies and dramatic plectrum shredding immediately had the audience on their feet and clapping loudly.
The applause continued throughout the performance in which Kitamura performed alongside two taiko drummers, Daisuke Ogawa and Keita Kanazashi.
Kitamura, who first learned the shamisen when he was in sixth grade, is now 26 and his youthful and contemporary performance showed how, with the right approach, today's youth can fall in love with a old instrument.
The Art of Tea: Shusaku Yasumaru demonstrates how to serve traditional Japanese tea. (JP/Zul Trio Angono)
The performance was part of a three-day art festival to commemorate the 60th anniversary of the establishment of diplomatic relations between Japan and Indonesia.
The event, which took place from January 26 to 28, was co-hosted by the Consulate General of Japan in Denpasar, the STIMIK STIKOM-Bali Information Technology Institute and Bentara Budaya Bali.
It featured numerous performances and activities aimed at showcasing the beauty of Japanese culture, ranging from workshops on manga and calligraphy, as well as tea ceremony demonstrations and film screenings.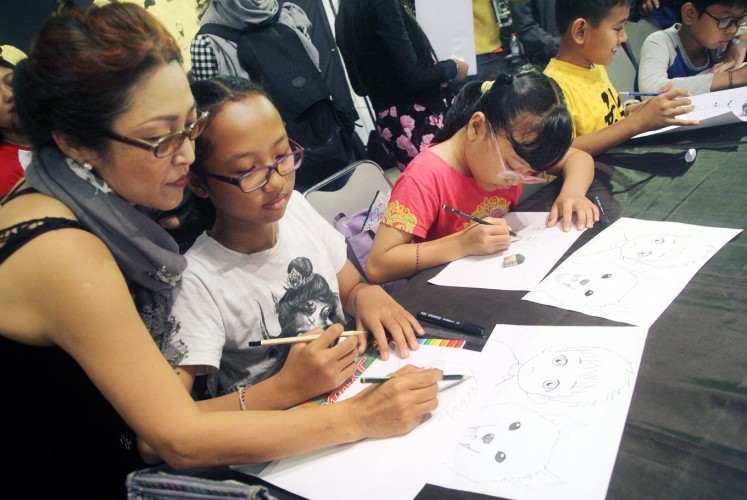 Cultivating creativity: Japanese manga artist Tamiko Tsuneoshi teaches children to draw during a manga workshop at Bentara Budaya Bali on Saturday. (JP/Zul Trio Angono)
In addition, the stage was also dedicated to several Balinese master performers and troupes, including local guitar legend Ketut Riwin, flute sensation Gus Teja and the godfather of jegog bamboo instruments, Ketut Suwentra.
"We would like to show that Japan and Indonesia have had a very warm and close relationship for decades and Bali is a testament to that closeness," said Japanese Consul General Hirohisa Chiba.
Chiba, who donned a beautiful batik shirt at the opening ceremony, pointed to the growing number of Japanese tourists, the growing interest of Japanese people in learning Balinese arts, as well as the growing number of Balinese art troupes. performing in Japan as proof of this closeness. .
The Japanese government's assistance to many vital development projects in Bali, including mangrove conservation in Suwung, coastal erosion mitigation in Sanur, Kuta and Nusa Dua, and micro hydropower in Jatiluwih, is additional proof.
This proximity found its visual and sonic expression throughout the festival, especially during the collaborative performances.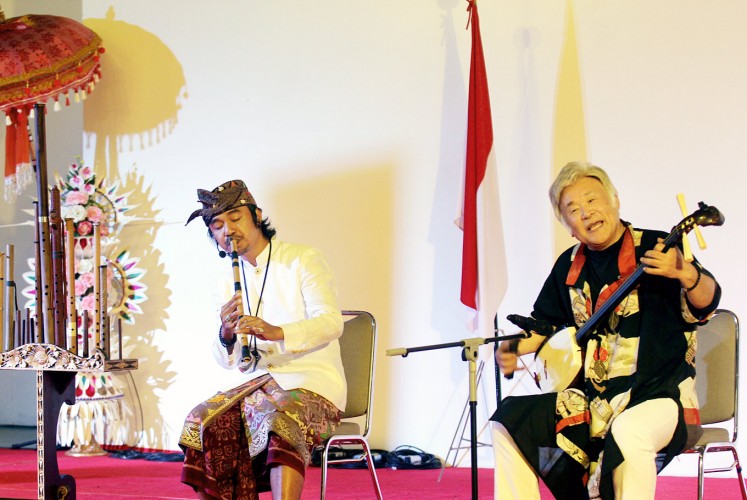 Two cultures: Maestro Shaminsen Baisho Matsumoto (right) and Balinese flute maestro Gus Teja collaborate during a stage performance at Bentara Budaya Bali on Saturday. (JP/Zul Trio Angono)
On the first night, Riwin shared the stage with Baisho Matsumoto, the charismatic silver-haired musician who has performed around the world for over 40 years.
Their performances of "Kokoro No Tomo", a popular Japanese song here, and "Bengawan Solo", an Indonesian song widely known in Japan, received thunderous applause from the audience.
On the second day, Suar Dwi Stri — a troupe made up of Japanese female musicians, enchanted the audience with their interpretation of to agree in collaboration with a jegog troop. Grantang and jegog are traditional Balinese bamboo instruments.
"I believe that historically speaking, the cultural relationship between Japan and Indonesia started long before the 1940s, when the Japanese army drove the Dutch people out of Indonesia," said prominent culture scholar I Made Bandem.
Bandem admitted that data on this cultural relationship was sparse, but he suggested that the double ikat tissue was a good starting point for future research.
"It is a specific and unique textile, a technique that is only known in Bali, India and Japan",
Double ikat consists of dyeing the warp and weft in reserve before weaving. In the village of Tenganan in Bali, the textile created using this method is called geringsing, in the patola of Gujarat in India and in Okinawa in Japan it is tate-yoko gasuri.